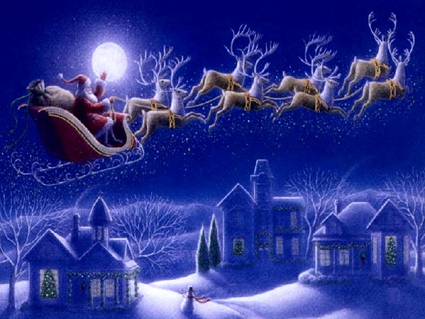 JOIN US TONIGHT, ON THIS EVE OF CHRISTMAS FOR FOOD, DRINK AND MERRIMENT!
Doors open at 4pm. Offering our Full Menu and Happy Hour Drink Specials ALL Night!
But until then, a little Christmas Eve joy for your holiday pleasure….
'Twas the night before Christmas,
when all through The Chasseur,
ALL the creatures were stirring,
especially Mike Z the Drink Master.
The beers were all tapped from the kegs with such care,
In hopes that all the neighbors soon would be there.
The music was bursting with holiday cheer,
While visions of Christmas Vacation on the flat screens were near;
The Neighbors in Ugly Sweaters, and Z in his Santa cap,
Had just settled on their pints Blue Mountain Lights Out Holiday Ale on tap,
When out on the sidewalk there arose such a clatter,
We sprang from our stools to see what was the matter.
Away to the windows we flew like a flash,
But nothing to see here just someone quite smashed.
The night was quite warm for the end of December
So we've only got visions of past snowy Eve's we try to remember;
When what to our wondering eyes should appear
But a menu with food to go along with our beer,
With a bevy of items, so awesomely sick,
We knew in a moment we should order some quick!
More rapid than eagles the courses did came,
And Mike Z whistled and shouted and called them by name:
"Duck Fat Tots! Steak & Egg! A Charcuterie plate!"
"Here's your Crab Mac & Cheese for your hot little date!"
"Meatloaf! Sour Beef & Dumplings! And my favorite of all…"
"Bacon Cheeseburger, Fried Chicken, and a juicy Filet Mignon!"
As beasts full of hunger who've been starved for some time,
We took to our food with a glint in our eye,
One bite, and then two, and from that moment we knew,
The Chasseur! We loved spending our Christmas Eve with you!
And then, in a twinkling, we heard with our ears
The clinking of glasses, "It's time for a cheers."
As we drew up our heads and were turning around,
Down in front of us came a hefty shot with a bound.
It was icy and cold, and it smelled minty and fresh,
"Thanks to you, all our neighbors! You all are the best!"
A bundle of giggles escaped from our mouths,
And we felt like a big family all gathered around.
Then we looked to our Bartender, or Z as we called him,
Oh what a swell guy and those drinks, he sure could pour 'em!
His eyes, how they twinkled! His dimples, how merry!
His cheeks were like roses, his nose like a cherry!
His droll little mouth was drawn up like a bow,
And the beard on his chin was dyed white as the snow.
He had a broad face and a round little belly
That shook when he laughed, like a bowl full of jelly.
He was friendly and fun, a right jolly old elf,
And we laughed when we saw him, in spite of ourselves.
A wink in his eye and a twist of his head
Soon gave us know that he'd get us quite bent.
He spoke the good word, and went straight to his work,
And filled all our drinks and then offered dessert.
He soon gave the signal, it was getting to be that time,
We'd all have to go home but oh, we were flying!
We gathered our coats and Mike Z gave a whistle,
And away we all went like the down of a thistle.
But we heard him exclaim, ere he closed the doors tight,
"Happy Christmas to all, and to all a good night!"
Original Story by Clement C. Moore, Adaption by Natalie diFrancesco